Extra activiteiten
Gepost door Reppie op 17/10/10 0:39
Gegroet NOLlers,
Er staan weer enkele activiteiten aan te komen die niet door de NOL georganiseerd worden, maar die wel op onze sympathie kunnen rekenen:
Zaterdag 30 oktober: "Kom op Tegen Kanker fuif"
Jaarlijkse fuif, georganiseerd door o.a. Danny Van Dievel (oudleiding)
Place to be: Parochiale Kring, Veerstraat Rumst.
Wij hebben alvast 30 inkom- / steunkaarten gekocht; je zou ons een plezier doen mochten jullie dit initiatief mee steunen, en één of meerdere kaarten kopen. Eén kaart kost 4 €; je mag het bedrag overmaken op de NOL rekening. We zorgen er voor dat de kaart nog tijdig bij jou geraakt!
Alvast bedankt!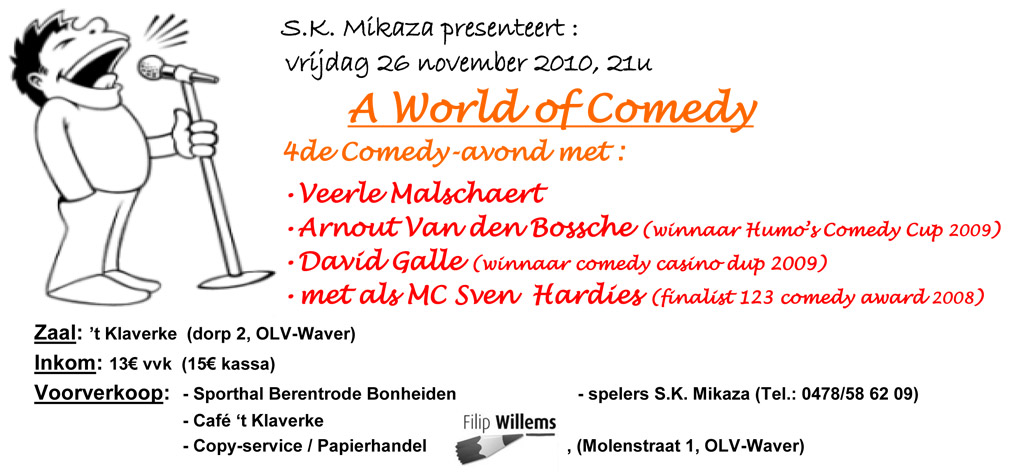 Vrijdag 26 november: "Comedy Avond"
Initiatief van SK Mikaza (sjotploeg waar enkele nog jeugdige NOLlers "actief" zijn)
Klik op de flyer voor meer info.
Kaarten te verkijgen via Olim; 13 € per kaart; ook hier mag je bedrag overmaken op NOL rekening + wij zorgen voor thuislevering van de kaarten!
Alvast bedankt, en tot binnenkort!
SMOK
Commentaren: